This is a collection of live performance works and commissions. From plays, to fire side stories, to movement pieces suspended in lift shafts each work is uniquely made and developed to create collective immersive experiences.
Filles du désert
Written and performed by Lauren Sheerman
Curated by Claire English
Part of In the Absence of Archives, Falmouth University

Filles du désert is a performance celebrating the land, women and the wild. For half a century the Tremough Estate (now campus) in Penryn was home to a convent school run by the Filles de la Croix. Their teachings were centered on the spiritual and pastoral care of the students, teaching them the value of the land and using the food harvested to nourish those who took residence at the school. Filles du désert explores the body and land as an archive and allows us to think that we are not lone bodies that just live and die, but we are all a web of beautifully connected matter.

Like moons are made, like dust we fade
Written and performed by Lauren Sheerman
Curated by Olivia Gray and Joseph Clarke

Part of 'I' Through the veil of solitude (With Spectrum) Truro, Cornwall

A performance experience for one person at a time. 'Like moons are made, like dust we fade' explores the idea of working in and through solitary states in order to understand our deeper, spiritual connection with our individual self, with each other and the universe.

Cradled in Gravity
Written and performed by Lauren Sheerman
Part of Suspended Sentences exhibition, Newlyn, Cornwall
A group exhibition created in response to the poetry of Simon Armitage.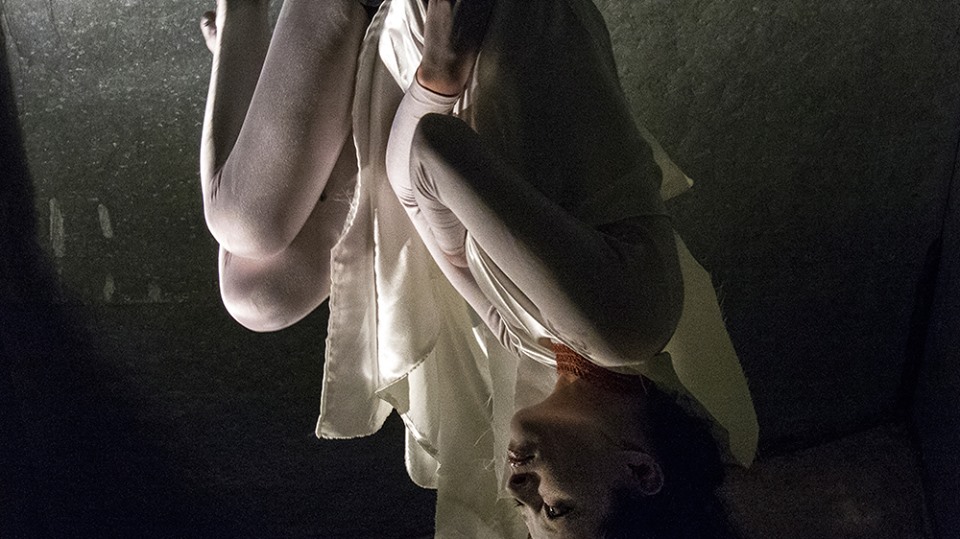 An aerial art performance inspired by the poetry of movement and silence- the moon and gravity. The piece looks at one tiny moment suspended in space; the still, silence before the storm- a ritual dedicated to the moon and its tides. In an attempt to slow the pace of the chaotic and frantic, everything is held, suspended and time slows and it becomes possible to think and allow ourselves to let go and simply be in space together.

'Whilst suspended it becomes possible to fully explore the extremities and imitations of the body through space in every direction; gravity is not only a force acting upon the body but a central partner in the dance through space.'
Blue meets blue
Written and performed by Lauren Sheerman
Blue meets Blue
Part of STAGE exhibition, Gunwalloe, Cornwall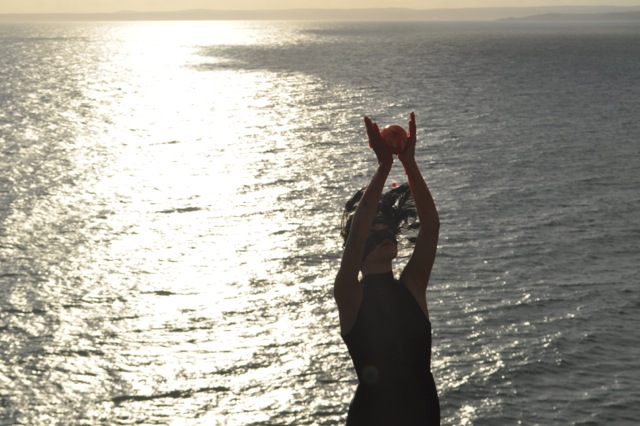 Blue meets Blue takes inspiration from the mythological character of Pasiphae. Mother of the Minotaur and Ariadne, wife of King Minos, Pasiphae is punished by the gods for her husbands treachery. Taking the elemental themes of fate, love and language to create a performance specifically commissioned and made for the cliffs of Halzephron, Cornwall.

"A great white bull came from the sea for me,
Blue meets blue but there is only silence…
I will inevitably bear a beast."
Swan song for one
Written and performed by Lauren Sheerman
Part of 'Discovery' developed with Cross Collaborations.

An intimate performance for one person at a time. Swan song for one is a site specific creation that explores the history of the dancehall space in which it is performed. Part guided meditation, the work is performed in a large white box and imagines that encapsulated inside the box, is the spirit of a beautiful white feather that has fallen from the boa of a man performing on a stage in a wartime dancehall. The presence of a woman is felt although she is never seen, it is her voice, soft and nostalgic that guides you through a series of images. Visions of swans drowning emerge, lovers written down on paper and then erased, a boa gently throttling until the feathers fall to the floor.

Adventus
Written and performed by Lauren Sheerman with Talking Birds
FarGo, Coventry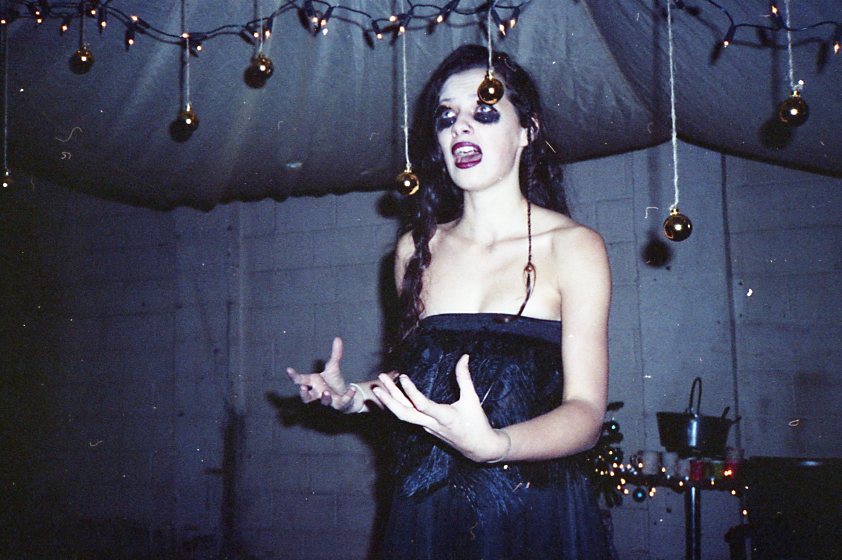 A contemporary reinvention of the mythological being, Frigg, exploring the rituals that surround Christmas festivities in Britain.
This piece dissects the stories, rituals and beliefs that are ingrained into British Christmas culture all told through the voice of larger than life Norse Goddess, Frigg. Evoking the festive spirit she guides us through the story using food, drink, costume and storytelling; dazzling with tinsel and and filling our bellies with mulled wine and sugared almonds.
Ghosts
Written and performed by Lauren Sheerman. In collaboration with Alex Kent (Performer) and Adele Mary Reed (photographer).
-Supported by The Higgs Charity with The Coventry Mysteries Company. A series of photo's commissioned for this event can be seen here:
http://www.adelemreed.co.uk/index.php?/series/ghosts/
Hay Lane, Coventry.
A durational exploration into forgiveness. Using the rituals of writing, and the church to cleanse the mind and forgive, both oneself and others. The work invited passers by to write and hang out notes of forgiveness, fill them with air, let them blow away and forget them. The physical action undertaken is used as a purifying experience for both the person that wrote it and also the city that harvested it.